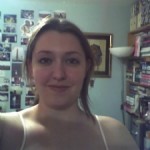 Hiya my name is Sasha and i'm looking for fun. I'm a fun girl looking for a good time. i want a man that can make me laugh,with a good body and an easy going nature. I'm the girl on the left in the photo

People love my smile,i think i'm kind and giving along with being a lot of fun. my horse makes me smile along with my mates and little britain. I'm passionate about fox hunting i'm glad we got the ban..

Horse riding is my major passion i love everything about it and my hobby is competing on my horse Flynn. I love reading, seeing films and music too.
Animals and waltzers i cannot get enough of them!. clubbing with my mates.

I'm looking for something casual but who knows where it might lead.An easy going, happy, good sense of humour, likes to go out drinking and also likes good nights in. you dont have to like horses for me to like you ha i'm a diverse girl.