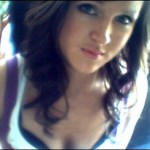 Cheeky, creative type seeks rocker with manners…:P A gentleman in jeans is pretty much the ideal :P. Ok so I'm not your average Online Dater. Sue Me. I'm quick-witted, edgy and happy, always smiling, always dancing, never a dull moment. i don't believe in boredom….
Into poetry, massively fond of unique music, and an avid festival-goer (I'm for Rockwerchter this summer, check out the lineup!!) Wannabe european, hopefully live in France or Italy someday, and wish to travel once this PGCE is out of the way.
Have alot of friends, am very independent and need someone with plenty of energy to keep up. Don't believe in being cooped up next to one person, in one place, all your life. Unless maybe you can prove me wrong, that's entirely your prerogative!